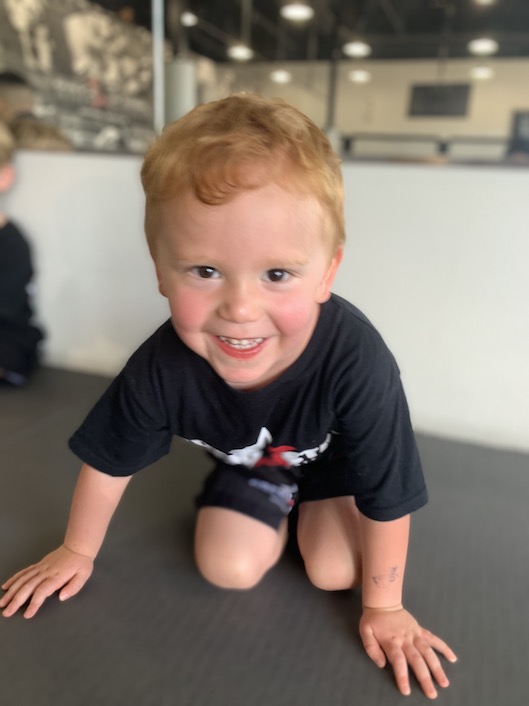 What is the best age to start martial arts?
Perhaps you've heard the line "The best time to plant a tree was 10 years ago. The second best time is now. "
For adults, the same concept applies. It would've been great if you started when you were younger. If you didn't, starting now is also a great time to begin training in martial arts. In five years you'll be glad you started when you did.
The Rocksters program at Rockstar Martial Arts North Frisco allows students as young as three years old to start training. At this age, the first two or three years are geared towards acquiring listening skills, concentration, eye-hand coordination, respect, and getting used to group environments.
However, usually around six or seven is when more formal martial arts training begins. With that said, good instructors will always do their best to make classes fun, fast-paced, and high-energy. They are able to create a disciplined environment while at the same time teach classes that are enjoyable. This is important because, regardless of age, people will most likely continue with an activity only if they enjoy it–We learn better when we're fully engaged in something that produces positive emotions.
At RockStar, we follow what is referred to as the SSL rule. That stands for Smiling, Sweating, and Learning. A sign of a good class is one that was enjoyable, everyone got a good workout, and they left class with a new understanding or increased skill in their training.
When children grow up training in a martial arts, amazing things can happen–they become better listeners, aspire to be their best, and become great leaders.
Can I learn martial arts at 40?
I'm amazed at how many adults 40 years or older would like to train in martial arts but feel they are too old. I completely understand, perhaps your body doesn't move as well as it once did. The reality is however it's never too late to start martial arts training as long as you do it the right way.
What is the right way?
Here's a few valuable tips for the over 40 crowd.
Don't wait to get in shape before you start training. Martial arts is a great form of exercise. Done right, it will make you stronger, more flexible, more balanced and have better endurance. Just make sure you ease into things.


Try not to compare yourself with other students in the class or a younger version of yourself. When you compare yourself with others, you either look really good or really bad depending on who you are comparing yourself with. But that is never fair because we are all running our own race. Instead, compare yourself to your own potential.


Be patient and committed. Try not to look at your martial arts training as something you're doing for a couple of months. Instead, consider the life of a samurai living according to traditional Japanese martial arts. This mindset describes someone who is living with a determined purpose, attends training regularly, and gives their best effort. When you practice patience and commitment throughout your training, you will acquire the skills to overcome the challenges of life put in front of you.


Follow the 80% rule. The 80% rule is only using up 80% of the gas in your tank. It has been my experience that most injuries happen when you are fatigued. Don't worry about becoming the next world champion, just focus on being a better version of you. Slow and steady wins the race. Don't over-train as that will lead to potential injury. I try to leave the mat thinking "I could've done more."
Click here to schedule a complimentary session at Rockstar Martial Arts North Frisco.