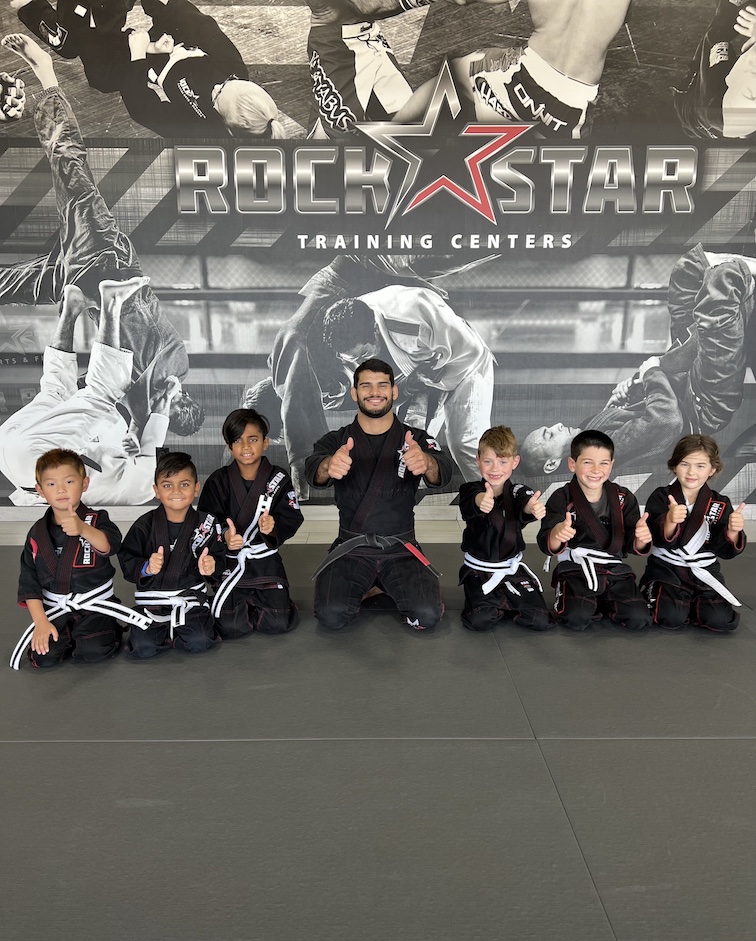 Click here to schedule a complimentary session at Rockstar Martial Arts North Frisco.
Click here to secure a spot at the Rockstar Martial Arts North Frisco Open House.
GO BACK TO SCHOOL…WITH MARTIAL ARTS!
It's here….the time of year parents look forward to for most of the summer. But say the words, "back to school" and the most angelic of kids' faces turns into a Frankenstein mask! They're obviously not as thrilled as you are about going back to school. No more sleeping late, hanging out with friends all day, TV or video game marathons, or just doing nothing at all day after day. It's a time of CHANGE and change can be hard for kids to deal with. And that's where Rockstar Martial Arts North Frisco can make a difference because your kids WILL use their martial arts training to do well in the classroom.
FOCUS
It's so very important that kids make a good first impression on their teachers. The first few classes of a new school year are the MOST valuable time for kids to start off on the right foot toward having a great relationship with their teachers. It's a time to use their martial arts training to focus…their eyes, mind, and body to do their best. Focus helps to improve attention, to listen and to react to what they are learning. Their teachers will ALWAYS notice and appreciate this and that can lead to better grades, good study habits, and great report cards!
DISCIPLINE
Discipline is a tough one, especially when your kids would rather be anywhere or doing anything else than sitting in a classroom all day. But when they've learned to discipline themselves through their martial arts training; to listen to their teachers instead of talking to the kid sitting next to them, day dreaming or staring out of the window they're well on their way to a rewarding school year. Discipline is like self-control…easy to say but hard to practice. Martial arts teaches kids self-control that can become the new normal in their classroom behavior and you won't have to dread progress reports anymore.
RESPECT
One TRULY important value in martial arts training is respect. It's all about respecting yourself and the people around you. Kids are expected to be silent in the dojo when their instructor is speaking or demonstrating a new form or technique. Because of their training, when they're in the classroom, this respect will naturally carry over to when their teachers are talking. They'll also learn to respect the other kids around them and wonder of wonders, they'll sometimes even listen to their parents as well! The fact is that kids who act respectfully aren't likely to cause problems in school either so no more visits to the principal's office.
BULLY PROOF
Although school is supposed to be a safe place for kids to learn and grow, that's not always the reality. The truth is that BULLYING IS REAL and sadly, it's on the rise. As much as you'd like to protect your kids from bullies, you can't always be there for them. No parent wants their kids getting into fights which is why martial arts teaches that violence is to be used ONLY as a last resort. Rockstar Martial Arts North Frisco can give your kids the skills to react and defend themselves if necessary but they'll also learn to keep calm and avoid situations where bullies have the upper hand. Confidence is an empowering tool and martial arts training will give your child good self-esteem and confidence and bullies don't pick on confident kids!
FITNESS
Getting kids to drop their cell phones, tablets, and video game controllers to concentrate on school work often leads to a screaming match nowadays. Kids don't even have to get off the couch to have a good time! But spending hours on the couch can have a really BAD effect on your kids health. Kids who don't spend time in some kind of physical activity are more likely to end up overweight or out of shape and that can lead to much more serious health issues now and in the future. At Rockstar Martial Arts North Frisco, kids actually break a sweat while they push their bodies to master a new technique! They get lots of quality action without even realizing they're exercising because they're having a great time doing something they really enjoy.
FUN
It's no secret….kids love to play and they do get restless sitting in a classroom all day. We learned long ago that kids learn faster when they're having fun. At Rockstar Martial Arts North Frisco we have lots of FUN activities like and amazing birthday parties that your kids will love to be a part of. Our kids have a great time in class making new friends while learning life-changing martial arts skills. Training in martial arts is also a great, safe way to release all of that bottled up extra energy so they have very little of it left; making bedtime battles a thing of the past!
Signing you kids up for martial arts at Rockstar Martial Arts North Frisco will be one of the BEST decisions you'll ever make! They'll learn important life skills that will help them do better in school and those skills will stay with them even into adulthood.