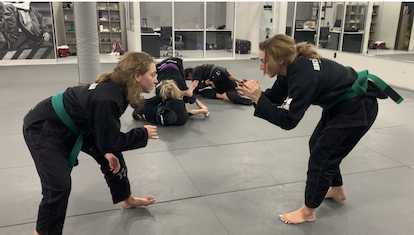 Click here to schedule a complimentary session at Rockstar Martial Arts North Frisco!
Learning BJJ at Rockstar Martial Arts North Frisco will give you an arsenal of effective martial arts techniques you can use to defend yourself if the need ever arises. Many in the martial arts community view Brazilian Jiu-Jitsu as one of the most effective martial arts for self-defense.
It's a great argument, given how effective BJJ has proven to be when applied in real-life situations. From mixed martial arts cages to law enforcement, BJJ is in a class of its own when it comes to how many different tools it gives you to end a fight.
Understanding Why BJJ Is Good For Self-Defense
Brazilian Jiu-Jitsu is a martial art that was developed to allow smaller fighters to defeat larger, less-skilled opponents by taking advantage of leverage. The techniques used in BJJ also give you a myriad of tools that can help you to come out on top if you find yourself in a disadvantageous position in a fight. For example, the guard position used in BJJ neutralizes many of the advantages a person would get from being on top in a fight.
Is BJJ Good For Self-Defense?
BJJ gives you more than enough techniques to safely bring a confrontation to an end. Benefits of BJJ as a self-defense system include:
1) Gives you control
There's more to BJJ than simply choking or tapping people out. The gentle art teaches you how to get fights to the ground, improve your position, and control your opponent. A skilled BJJ fighter can defend themselves against a larger opponent without either party taking any significant damage. The art teaches you gentle ways to exercise full control over an opponent.
2) You build up loads of fighting experience
One of the main benefits BJJ has over other martial arts is the "rolling" culture. That's the BJJ slang for sparring, and it's a part of every class. The way most BJJ schools work, students spend the first half of their classes performing drills that strengthen their techniques and bodies. They also learn a few new techniques from their instructors.
The last half of BJJ classes are typically spent rolling with each other. It gives you an opportunity to try out all the moves you have learned on opponents who are not going to make things easy for you. That means BJJ students learn how to execute their moves on sparring partners who also know a few things about BJJ. It makes things a lot easier when a BJJ fighter finds themselves going against an inexperienced grappler, which would be most people.
3) Keeps you in awesome shape
BJJ classes are intense activities, and you can burn hundreds of calories for each hour spent on the mat. This makes it easier for you to burn fat and stay lean.
Training BJJ also improves your core strength, which translates well for self-defense. You might have heard people use the term "grappling strength" before. It's a unique type of strength that comes from having a strong core.
BJJ also improves your cardiovascular endurance, which allows you to fight harder for longer. The outcome of a fight is often determined by who gets tired first when fighting skills are equal. Endurance is one of the advantages you get to enjoy when you train BJJ. Your body grows stronger as your arsenal of techniques grows.
4) Builds confidence
Nothing improves your confidence like progressing through the ranks in BJJ. You start out as a white belt who gets tapped out by pretty much everyone in the gym, and your skills gradually improve. Over time, you find yourself, escaping moves that once forced you to tap and submitting some of your training partners.
You spend so much time on the mat you no longer get nervous at the thought of going head-to-head with someone. You've used your skills against countless training partners of varying skill levels, and you know you can use them in a self-defense scenario if the need ever arises.
So if you're looking to learn real-world self-defense skills to keep you safe on the streets, give BJJ a try!
Click here to schedule a complimentary session at Rockstar Martial Arts North Frisco!