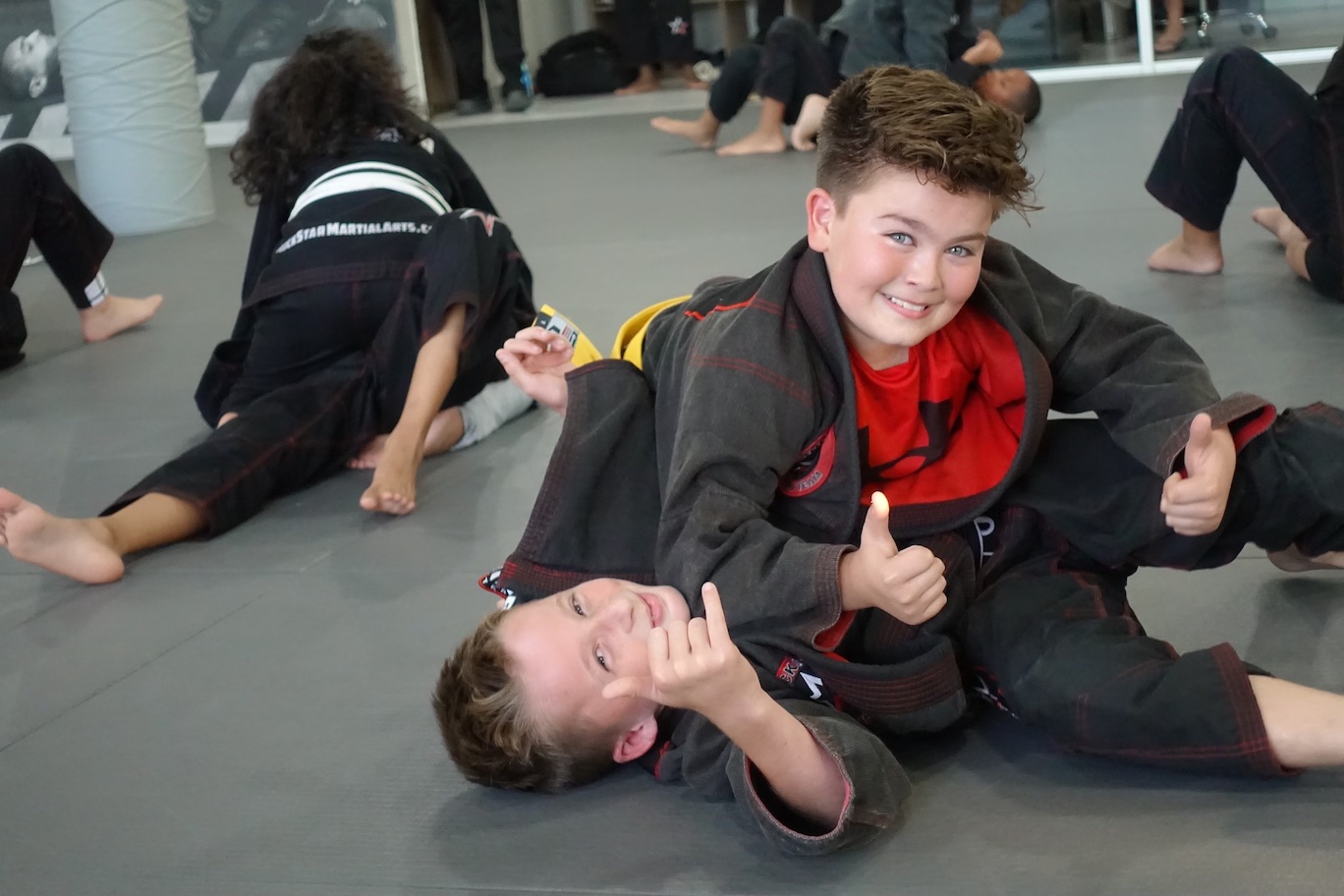 It has, unfortunately, become more and more common for people to quit when things become difficult or challenging. The ability to persevere and push through hard times and events seems to almost have been lost among many children today. Fortunately, Rockstar Martial Arts North Frisco offers an environment in which your child will not only learn what it means to have perseverance but also have opportunities to practice and apply the concept of perseverance.
Life can be hard. Family, school, and social interactions can all pose challenges that need to be pushed through, worked through, and overcome. Children who have the opportunity to learn how to persevere will benefit from that skill for the rest of their life. Here are three ways our kids martial arts program at Rockstar Martial Arts North Frisco will teach your child the value of perseverance.

1) Martial Arts Is Physically Challenging
Martial arts will pose a physical challenge to your child's body. It is not a sport that your child will master in a week, even if they are very athletically inclined. They will have to work hard to get better, they will make mistakes, and they will tire out their body in the process.
Fortunately, martial arts is also incredibly fun, which makes it the best place to do hard things and learn to persevere. Since your child will have a wonderful social network at Rockstar Martial Arts North Frisco as well as enjoy the sport itself, your child will be drawn to work hard and persevere through the challenges that it presents.
As physical challenges present themselves to your child, they will get to experience the pride as they work through them and eventually master them. Whether the moves are technical ones, ones full of necessary flexibility, or ones that require great strength, your child will get plenty of experience working with perseverance through physical challenges. Plus, they will be sweating and getting tired from the physical activity, and that gives yet another excellent physical opportunity to persevere through.

2) Martial Arts Is Mentally Challenging
Martial arts has a large mental component. While the obvious aspect of martial arts is the physical side, it comes as a surprise to many how much mental fortitude and perseverance come with the sport.
There will be times when your child is not able to make their body do what their mind is comprehending and trying to do. This can be extremely frustrating for anyone, but especially so for children. This type of experience will force them to tap into their mental perseverance to keep working until their mind and body are able to connect.
Martial arts is also not a "quick to master" type of sport. Your child might be more athletically inclined and grasp concepts quickly, but it will still take a very long time in the sport for any semblance of mastery to develop. Quitting hard things has become more of the norm in our culture. Children who are not able to experience and appreciate the development of mental perseverance will continue to quit anything they try as they proceed through life.
Fortunately, martial arts provides a rich environment for learning and developing mental perseverance. The culture of martial arts is one that is full of perseverance in all areas. Coaches, teammates, and even other parents at Rockstar Martial Arts North Frisco all strive to help your child stick with it, regardless of the challenges they face throughout the process. Martial arts is the ideal environment for your child to learn how to persevere, and to find the community and support network to help them navigate doing so.
3) Martial Arts Provides Experiences Of Failure
More and more often, children are being protected and guarded against failure. Failure, however, is one of the greatest tools for learning and growing, and children need the experience of failure to learn some of life's greatest lessons. One of those lessons, among many, is perseverance.
Whether your child experiences matches within their own school or matches at an organized tournament, chances are that they will experience both winning and losing. Losing often provides excellent growth opportunities for our children, and it can be used to capitalize on their pursuit of developing perseverance as a character trait.
A loss can be frustrating, especially after your child has worked so hard to do well. Further, a loss doesn't even mean that they didn't do well, it just means the opponent did a little bit better. Sometimes in the frustration of a loss, children will want to quit or never participate in a tournament again.
Coaches, parents, teammates, and even their opponents will be able to offer encouragement as your child processes their feelings, as well as give them the needed push to persevere through their frustrations to become an even better martial artist. It's difficult to quit when you have a bunch of people rooting for you!
No matter your child's competition experience, remember that failure and loss are great tools for learning perseverance. While today it's persevering through a sport, someday it will translate to persevering through tough times at work or difficult situations in relationships. Learning perseverance now will benefit your child throughout their entire life.
Martial Arts Is The Best Teacher For Perseverance
Whether your child already has some understanding of how to persevere or not, they will certainly develop and hone in on this trait as they explore the world of martial arts. Regardless of their chosen style to practice, martial arts has a unique way of offering a variety of experiences for learning perseverance.
From physical perseverance when things are hard on their body, to mental perseverance when they struggle to do the things they are trying to do, they will be supported, encouraged, and helped along the way as they develop this necessary character trait for life.
Furthermore, the opportunities that martial arts offers to experience loss and failure are unparalleled in any other sport. Your child will learn that their wins and losses don't define them, and they will begin to see that they can persevere and keep going through the losses of sports, life, and beyond.
If you are looking for the perfect sport to help your child develop perseverance, look no further than a great martial arts program. Consider our kids programs at Rockstar Martial Arts to get your child started with authentic martial arts learning.
Click here to schedule a complimentary session at Rockstar Martial Arts North Frisco!