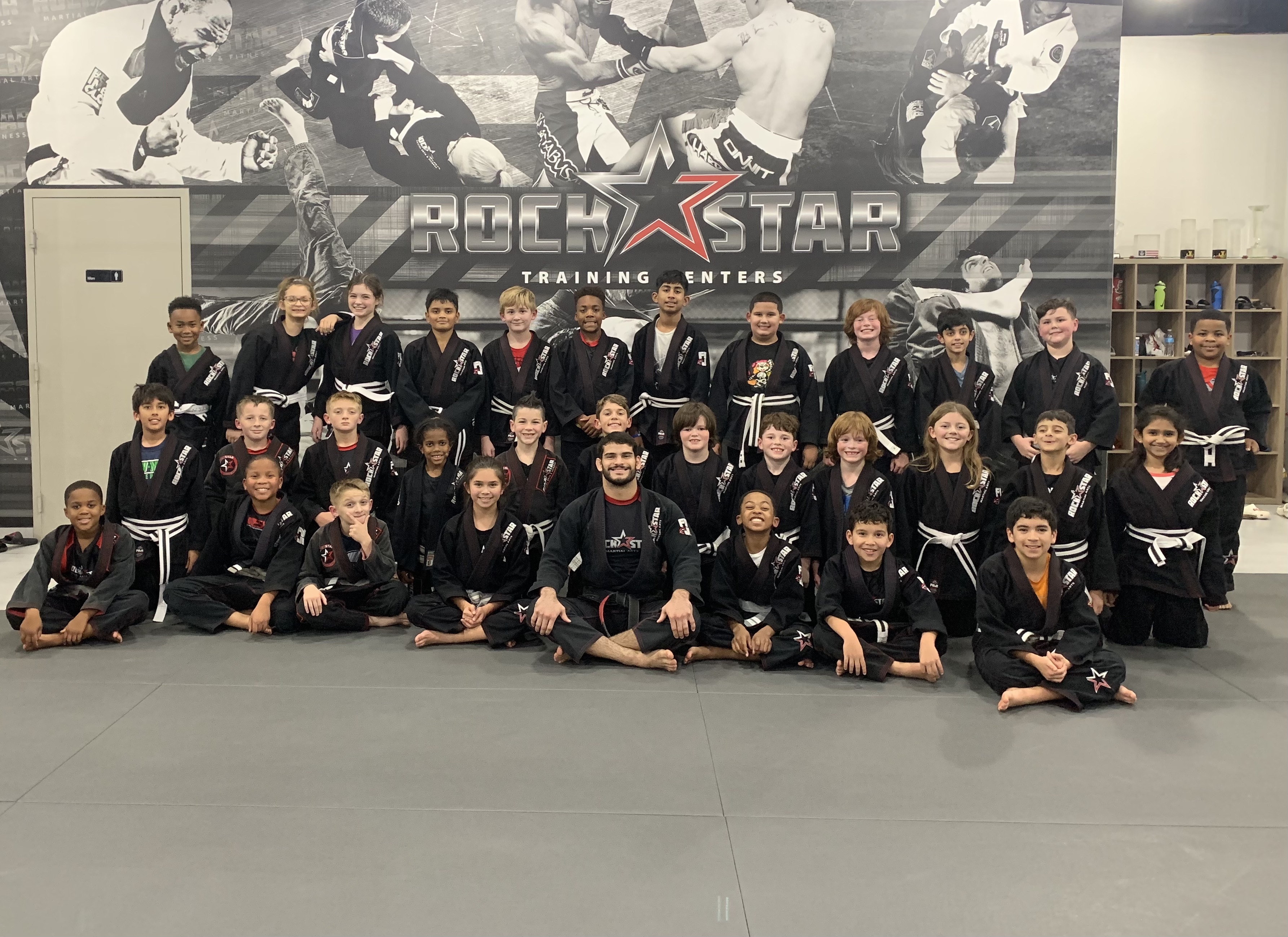 Brazilian Jiu Jitsu is becoming one of the most popular kids sports around the world. This should come as no surprise as Brazilian Jiu Jitsu is a great way to teach your kids valuable lessons: how to make friends, be active, and stay fit. Kids learn about respect, teamwork, self defense, and the importance of education through our kids programs at Rockstar Martial Arts North Frisco.
Although enrolling your child in our Brazilian Jiu Jitsu classes at Rockstar Martial Arts North Frisco may seem scary at first because it involves grappling techniques such as takedowns, joint locks, and choke holds, jiu jitsu is actually one of the safest kids sports around.
In this article, we'll go over some of the benefits of Jiu Jitsu for kids.
BENEFITS OF KIDS JIU JITSU
When kids first start jiu jitsu, they are thrown into a group with kids of all different sizes, weights and backgrounds. In those early weeks, kids who may never have made friends before, suddenly become best buddies. Because the students at Rockstar Martial Arts North Frisco are training together every week and learning to rely on one another for support in class, kids form amazing friendships that last well beyond their beginner days. It's rare for kids to find a friend group like this anywhere else!
Kids Jiu jitsu classes are great ways for kids to get healthy exercise while learning real world self-defense skills. The kids classes are full of energy and fun. Unlike other kids sports where kids practice a little bit each week, kids who train in BJJ will often participate in weekly classes as apposed to practicing once or twice per month.
JIU JITSU FOR KIDS SELF DEFENSE
Although kids Jiu Jitsu is mainly for sport, your child will learn many real world self defense techniques. Most traditional kids sports such as soccer or baseball teach how to score points or win a game, Jiu Jitsu focuses on defending yourself from an attack. Kids who train in Brazilian Jiu Jitsu will be much more confident than kids who sit on the sidelines all day waiting for their turn to play! Having the confidence to stand up to a bully is an amazing life skill kids can build by training Brazilian Jiu Jitsu.
JIU JITSU MAKES KIDS MORE RESILIENT
Many kids these days lack resilience as some parents cater to them with everything they want or kids become addicted to technology rather than exploring the outside world. While there is nothing wrong with enjoying some screen time here and there, most kids would benefit from spending more time playing and exercising with new friends.
BJJ IS A FANTASTIC WAY FOR CHILDREN TO GET THEIR ENERGY OUT
Kids Jiu Jitsu classes are great for kids who have a lot of energy and need to burn it off. The kids learn new skills while getting their wiggles out. When kids train BJJ, they also learn the importance of being able to control their emotions and keep themselves calm in stressful situations.
KIDS WILL LEARN ABOUT TEAMWORK AND SPORTSMANSHIP.
While Jiu Jitsu may seem like an individual sport, your child will actually learn to rely on their teammates for support and encouragement throughout class. As kids progress through the ranks, they grow as both athletes and people.
Our Brazilian Jiu Jitsu program for kids promotes teamwork and sportsmanship while encouraging kids to go all out and never give up! Kids get excited when they learn something new in BJJ class like a new sweep, takedown, or defense. They become more confident when they graduate from white belt, which is the beginner ranking, to gray belt and beyond. This boost of confidence sticks with kids past jiu jitsu by instilling confidence other parts of their life too.
HOW YOUNG IS TOO YOUNG TO START BJJ?
Kids as young as 5 years old can start kids jiu jitsu classes. Most kids Jiu Jitsu schools have a beginner program that is designed to teach kids basic skills without the pressure of tournaments, points, or belts. Beginner classes usually each children into Jiu Jitsu with more games and drills rather than competitive sparing.
WHAT ARE KIDS BJJ CLASSES LIKE?
Most kids BJJ classes are broken up into three parts. Warmup, technique, and rolling.
During warmup and stretching kids are taught the basic movements before kids Jiu Jitsu class to prepare their bodies for physical activity.
Next is technique and drilling. Most kids BJJ classes teach kids new techniques each week. The instructor will usually demonstrate a technique, or series of techniques before the class breaks off into groups to drill and practice the technique.
Most classes end with "live rolling" where kids get the chance to try out their new techniques in a live sparring matches with one of the other kids in class. Kids are usually always paired with other kids of similar size, age and skill level during live rolls.
SO WHAT ARE YOU WAITING FOR?
If you've been thinking about signing your kids up for kids Jiu Jitsu but weren't sure if it was safe, we hope this article helped ease your mind. Come and check out our kids programs at Rockstar Martial Arts North Frisco by scheduling a complimentary session today!
Click here to schedule a complimentary session at Rockstar Martial Arts North Frisco!