➡️ Use QR code or click here to register!!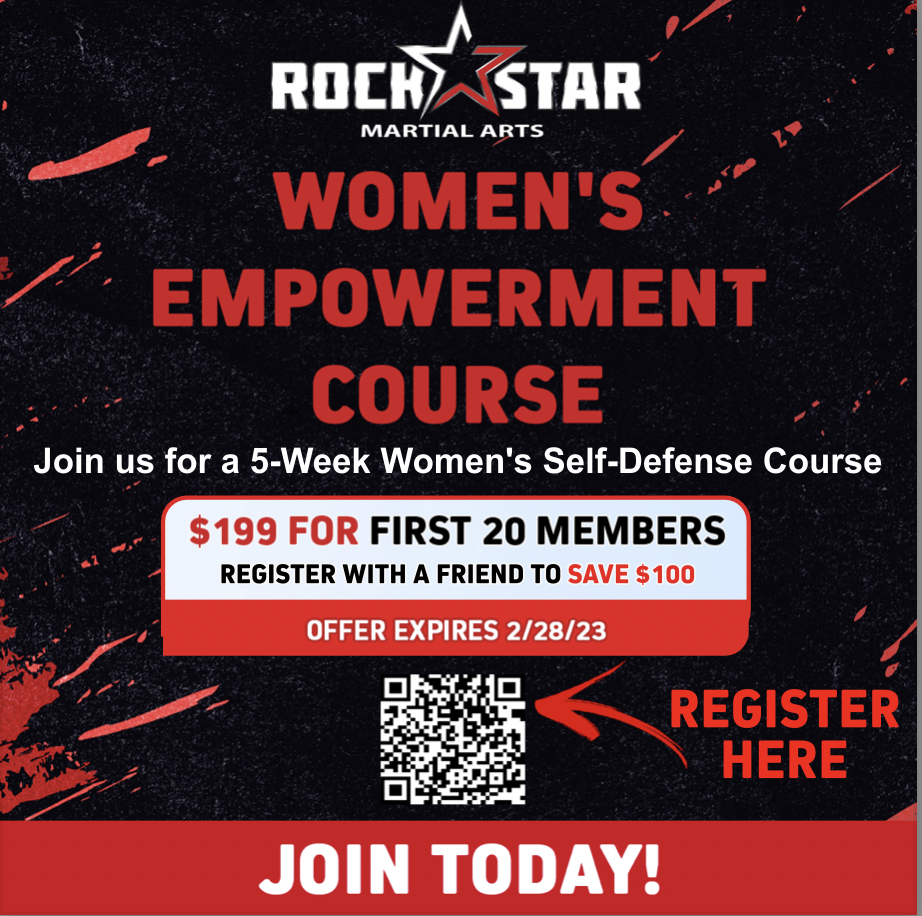 SELF DEFENSE BEGINS WITH THE BELIEF THAT YOU ARE WORTH DEFENDING.

📣 Only a few more days left to register!!!

Announcing the Rockstar Martial Arts new 5-week Women's Self-Defense course!

We are committed to empowering you with knowledge and valuable techniques that can be necessary to guard against dangerous situations.💪

This course teaches students how to defend the most common attacks against women. Lessons include but not limited to:

✅ How to break free from an attacker who grabs you without warning.
✅ How to avoid being taken to the ground by a determined attacker.
✅ How to escape from underneath an attacker who has you pinned.
✅ Critical situational awareness and boundary setting.
✅ Defending strikes, hair pulls, chokes, grabs and drags

We include techniques that are simple, effective, and applicable to real life scenarios.

NO EXPERIENCE IS NEEDED AT ALL!

This Seminar is intended for the FIRST TIME STUDENT to learn more about defending themselves! All Abilities Welcome!

Empower Yourself & Meet new Friends and an Uplifting Community of Women Supporting EACH other!

LINK IN BIO TO REGISTER! Register today. Space is limited!
Location: Rockstar Martial Arts North Frisco
12021 Dallas Pkwy #400

Course dates and times⏰
March 1st and 3rd - 11:30am-12:30pm
March 8th and 10th - 11:30am-12:30pm
March 22nd and 25th - 11:30am-12:30pm
March 29th and 1st - 11:30am-12:30pm
April 5th and 8th - 11:30am-12:30pm

➡️ Use QR code or click here to register!!