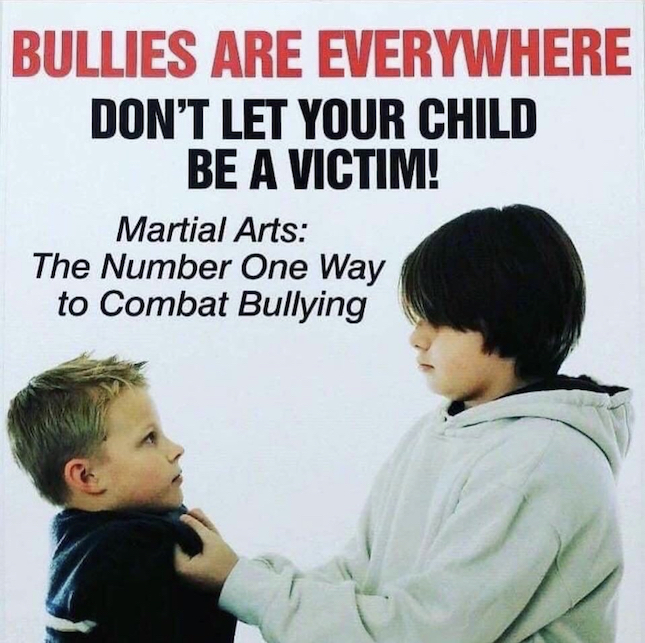 October isn't just about pumpkin spice lattes and Halloween costumes; it's also National Bullying Prevention Month—a time to raise awareness about the critical issue of bullying and promote strategies to prevent it. In a world where bullying continues to affect the lives of countless children and adolescents, it's essential to address this problem head-on. This October, Rockstar Martial Arts North Frisco is taking a proactive stance by offering free Anti-Bullying seminars throughout the month, demonstrating how martial arts can play a significant role in preventing bullying.

The Prevalence of Bullying

Bullying is a pervasive issue that affects people of all ages, but it is especially rampant among school-age children and teenagers. According to the National Center for Education Statistics, approximately 20% of students in the United States report being bullied. This staggering statistic highlights the urgent need for initiatives like National Bullying Prevention Month.

Bullying can manifest in various forms, including physical, verbal, and cyberbullying. It can lead to severe consequences for both the victim and the bully, such as emotional distress, academic struggles, and even long-term psychological trauma. It's a problem that requires not just awareness but also effective preventive measures.

Martial Arts as a Tool for Bullying Prevention

Rockstar Martial Arts North Frisco recognizes that martial arts can be an instrumental tool in the fight against bullying. Here's how:

1. **Boosting Confidence:** Martial arts training instills a sense of self-confidence and self-worth in individuals. Bullies often target those they perceive as weak or vulnerable. By building self-confidence through martial arts, potential victims are less likely to be targeted and more likely to stand up for themselves.

2. **Teaching Self-Defense Skills:** Martial arts equips participants with valuable self-defense techniques. Knowing how to protect themselves physically gives children and teenagers the ability to defend against bullies when necessary, as well as the confidence to assertively avoid confrontations.

3. **Promoting Respect and Discipline:** Martial arts emphasize values like respect, discipline, and self-control. These values not only guide students in their interactions with others but also discourage them from engaging in bullying behavior.

4. **Building Empathy:** Martial arts training fosters empathy and a sense of community. Students learn to appreciate the struggles and strengths of their peers, making them less likely to bully others and more inclined to support and defend those who are targeted.

Rockstar Martial Arts North Frisco's Anti-Bullying Seminars

Throughout October, Rockstar Martial Arts North Frisco is offering free Anti-Bullying seminars as a part of their commitment to National Bullying Prevention Month. These seminars will provide children and teenagers with practical tools to recognize, prevent, and respond to bullying situations effectively.

The seminars will cover topics such as:

- Identifying different forms of bullying.
- Building self-confidence and self-esteem.
- Learning self-defense techniques.
- Developing conflict resolution skills.
- Understanding the importance of empathy and respect.

National Bullying Prevention Month serves as a reminder that we all have a role to play in creating a safe and respectful environment for our children and youth. Rockstar Martial Arts North Frisco's initiative to offer free Anti-Bullying seminars throughout October is a commendable step towards addressing the issue of bullying head-on.

By empowering young individuals with the tools they need to stand up against bullying, these seminars not only contribute to the immediate well-being of the participants but also promote a culture of kindness, respect, and empathy. Together, we can make a difference in the lives of those affected by bullying and work towards a future where every child can grow up in a safe and supportive community.
Click here to register for our free Anti-Bullying seminar. Limited spots available!