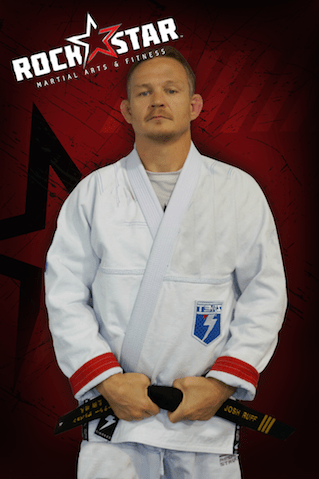 Josh Ruff
Current Rank: Black belt
Professor Josh joined the RockStar family back in November of 2016 as a coach. Originally from Lawrence, Kansas, he has made Texas his home. Professor Ruff, and his wife, Coach Laura, both operate and manage the RockStar Prosper location.
He started martial arts at the age of 7 and has various background studies in Muay Thai, Taekwando, Judu, Kung Fu San Soo, Wresting and Brazilian Jiu-Jitsu. He has been practicing Jiu-Jitsu since 2004.
Professor Ruff's mission is to not only teach Jiu-Jitsu but also help build students' confidence, self-esteem and influence living a better way of life. Being not just a parent, but a father, he understands you can tell children what they need to do. As a coach, he truly feels his job is not just to teach Jiu-Jitsu but to also influence his students to grow into becoming strong, confident and better individuals.
When not doing Jiu-Jitsu, he focuses on recovery, spending time with his wife and enjoys being outdoors.
"It (Brazilian Jiu-Jitsu) teaches you how to use leverage, and it truly teaches you how to use your body, size to protect yourself. It's the one art where the smaller person can truly beat a bigger person through the understanding of leverage and positioning.
Civilize the mind makes savage the body."